Details

Published on Monday, 11 January 2016 23:11
HUNGARIAN NIGHT CHAMPIONSHIPS
ZSANA
11th JUNE 2016
INVITATION
Downloadable invitation: .doc .pdf
Organizer: The Orienteering Section of Maccabi Fencer and Athletic Club
Main patron: Ferenc Sulyok, General Director of Kiskunsági Erdészeti és Faipari Zrt.
Patrons: Miklós Visnyei, Mayor of Zsana village
András Á. Fúrús, Mayor of Kiskunmajsa city
Gyula Szikora, Genelar Director of Jonathermál Zrt.
Main sponsor: KEFAG Kiskunsági Erdészeti és Faipari Zrt.
Event center: Zsana, I. körzet 15. OÁZIS TANYA
Organizing commitee:
President: Paskuj Mátyás
Secretary: Bozsó Norbert
Course setters: Forrai Gábor, Forrai Miklós
Event controller: Bereczki Máté
Event form: Open night individual championships
Categories:
Championships categories: M/W 18A, 20A, 21A, 35A, 40A, 45A, 50A, 55A, 60A, 65A, 70A, M75A, 80A, 85A
Other, non-championships categories: M/W 21BR, Open advanced, Open beginner

First start: 22:00, 11th June 2016.
Entry deadline: 30th May 2016. championships categories
6th June 2016. non-championships categories
Entry: ENTRY (nevezes.mtfsz.hu)
e-mail: This email address is being protected from spambots. You need JavaScript enabled to view it.
Please add the following details: club, name, category, date of birth, SI-number
Entries via e-mail will be confirmed in 2 days.
Start list: 1st June 2016.
Entry fee:
Championships categories: 2500 HUF/person
Non-championships categories: 1500 HUF/person
SI rent: 300 HUF/person
Paying: According to the entered number or runners by cash on spot or by bank transfer.
Entry fee and accomodation payment by bank transfer until 6th June 2016 to:
Orienteering Section of Maccabi Fencer and Athletic Club
Comment: Night Championships 2016.
UniCredit Bank Zrt. Szeged: 10918001-00000093-61180008
In case of bank transfer please send an e-mail within data of competitors (name , club, category) whoes entries are payed.
Accomodation:
| | |
| --- | --- |
| Gym hall in Kiskunmajsa | 1000 Ft/person/night |
| Camping in event center | 2500 Ft/person/night |
| Tent site near event center | 1000 Ft/person/night |
Transport: Not planned. but if required, transportation can be organised if your request is received by 5th June.
Parking: 200 Ft/car
Terrain: Open and semi open sand hill area, mostly good runnable pine forest with some dense vegetation area.
Embargoed area: Any orienteering activity is forbidden before competition in the area show by map: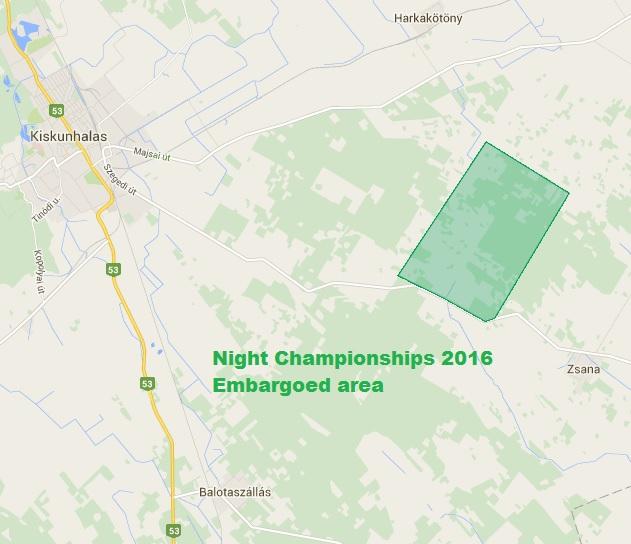 Map: Corrected in 2013-16, scale 1:10000, contour distance 2m.
Prizes: In championships categories: places 1st-3rd receive medals, diplomas and special prizes. Places 4-6th receive diplomas.
In non-championships categories: medals.
Others:
SportIdent punching system will be used.
Any trading in competition area during the event is only allowed with the permission of the president of the Organizing Commitee.
Buffet with cold and hot food at the finish area.
Everyone take part on their own risk.
Papp János memorial event will be organized on 12th June at the same venue.
Every runner gets 50% discount ticket to Kiskunmajsa Jonathermal Spa an Adventure centre.
More information: This email address is being protected from spambots. You need JavaScript enabled to view it." style="font-size: 16.016px;">This email address is being protected from spambots. You need JavaScript enabled to view it.

Everyone is welcome!
Paskuj Mátyás
President of the Organizing Commitee